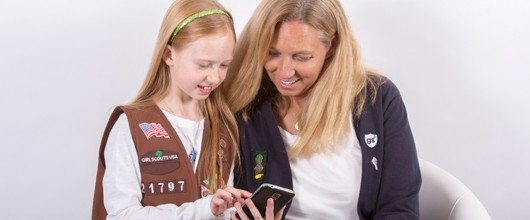 Customer Engagement Initiative
We're so excited to share information about our brand new Customer Engagement Initiative with you! We've been talking about the benefits of our new platform—now we're ready to unveil all the bells and whistles!
Girl Scouts of the Desert Southwest will be launching its Customer Engagement Initiative in summer 2017. This exciting initiative consists of three all-new, online tools. In addition to these new tools, our CEI involves realigning staff teams to provide more responsive service to girls and volunteers. All Girl Scout councils across the nation are expected to transition to CEI by 2017, resulting in a consistent, high-quality experience for girls and volunteers. 

Membership Fee $25 - National membership fees support the development of the national Girl Scout program and basic accident activity insurance during Girl Scout activities.
Online Earlybird Registration - Earlybird registration for the 2017-2018 Girl Scout year will be available online from 6/26/2017 through 7/31/2017.
Volunteer Toolkit - A simple online tool for leading your K-5 troop to the pathway of success.
New & Improved Website - An easier and mobile-friendly resource to find content when you need it.