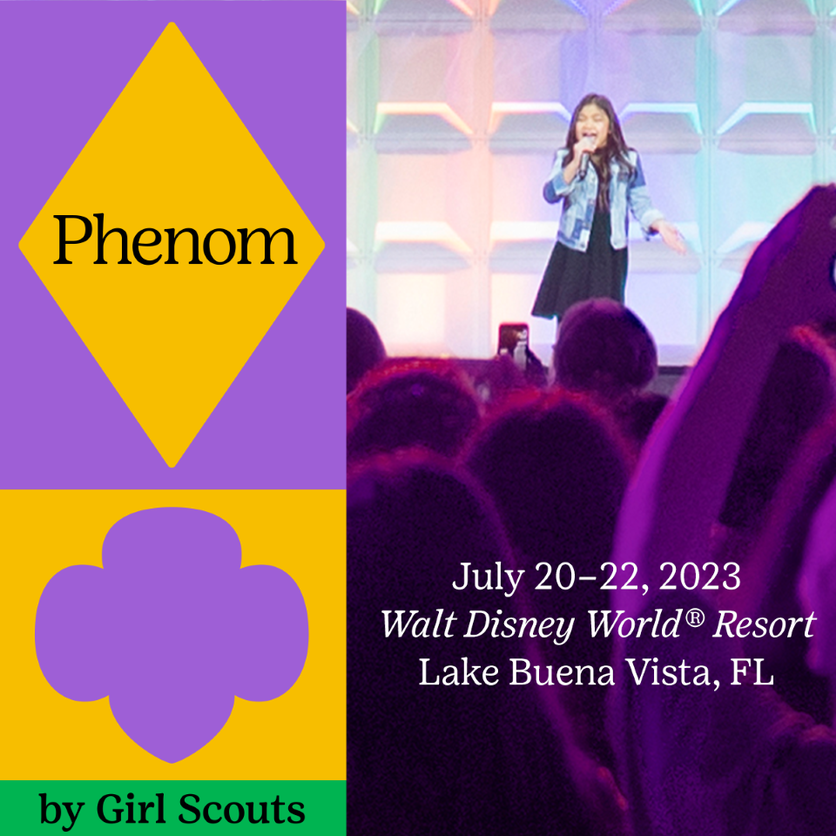 National Council Session & Convention 2023
GSUSA announces the dates for the 56th National Council Session and Phenom by Girl Scouts event!
Girl Scouts of the USA sends the following message regarding the 2023 National Council Session.
We are excited to announce the dates for the next National Council Session (NCS): Tuesday, July 18,
through Thursday, July 20, 2023. 
Also, "Phenom by Girl Scouts," an event just for girls, will follow our 56th NCS—kicking off on Thursday, July 20, and wrapping up on Saturday, July 22, 2023.
We cannot wait to see you—along with thousands of other Girl Scouts and supporters of our mission from across the country and around the world—when we gather in Orlando, Florida in July 2023. We know that you are eager to learn more details and we will be sharing additional information in the coming months.
Save Your Spot 2023 Convention
Calling all innovators, problem solvers, phenoms, and doers (that's you!) True phenoms find innovative solutions to problems, do things that have never been done before, and make a difference in their communities.
Ready to show the world just how phenomenal you are? Join us for a national gathering of changemakers from across the country in July 2023 at Walt Disney World Resort. Get ready to spark new ideas, make friends, have fun, and create something incredible.
Early bird registration will open this summer, but don't wait—fill out our interest form to save your spot and stay in the loop on all the fun that awaits! There will be activities and demos in the Expo Hall, special guests, live performances, and much more. This event is open to all, including Girl Scout members, non-members, alums, and families.