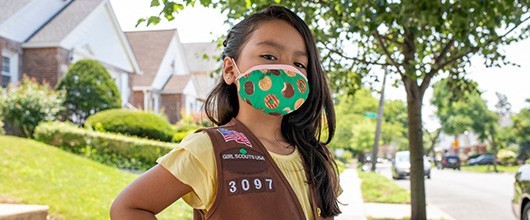 Get Involved
You're invited. Press play with us.
Making friends, testing her strengths, exploring new possibilities. It's all here for her.
Whether teaming up with others or learning to shine on their own, Girl Scouts have the tools and community support they need to succeed.
Press play with Girl Scouts. Where she can be herself and her confidence can soar.
What is Girl Scouts? 
Girl Scouts isn't just a moment in her life, it's a movement dedicated to building girls of courage, confidence, and character who make the world a better place.
Why do families love us? 
Girl Scouts is a way of life that brings out the best in your girl, even in the most challenging of times. While she's learning about STEM, the outdoors, entrepreneurship, and important life skills, she's discovering new ways to make your family and community stronger, kinder, and better for everyone.
How does it work? 
Groups of Girl Scouts, called troops, typically meet weekly or biweekly for an hour or two. Guided by adult volunteers—often parents and caregivers—girls select exciting hands-on activities and projects, try new things, and cheer each other on. Together, they earn badges to reflect their successes and show the world what they're made of.
What's the goal?
Making sure girls see and have opportunities to reach their potential isn't just about helping them earn better grades, make better decisions, and lead happier lives (though it helps with those things too!). It's about creating a more fair, equal, and compassionate world where every girl has a seat at the table and can make her dreams come true. Check out our values in the Girl Scout Promise and Law.
Right now, Girl Scouts are meeting furry friends at their local animal shelters, giggling past lights-out at sleepovers, and learning how their favorite roller coasters work.
Above all else, they're having a blast—because they know bringing the fun is all about being their true selves, trying new things, and cheering each other on.
Get ready to join the crew and bring a bit more happy to your life.
Need to know more so you can decide what's right for you? Check out all the different ways to take the lead at Girl Scouts. Or, see all the exciting possibilities Girl Scouts offers for girls of all ages and choose your adventure.
Help Girl Scouts discover their place in the world.
Ever want to forget everybody else's expectations and just…be you? When you volunteer with Girl Scouts, you'll be creating a community where being your unfiltered, goofiest, most authentic self is the absolute best thing you can be.
Our local volunteers lead with their hearts and spark imaginations. They help Girl Scouts explore unique interests and unlock their potential.